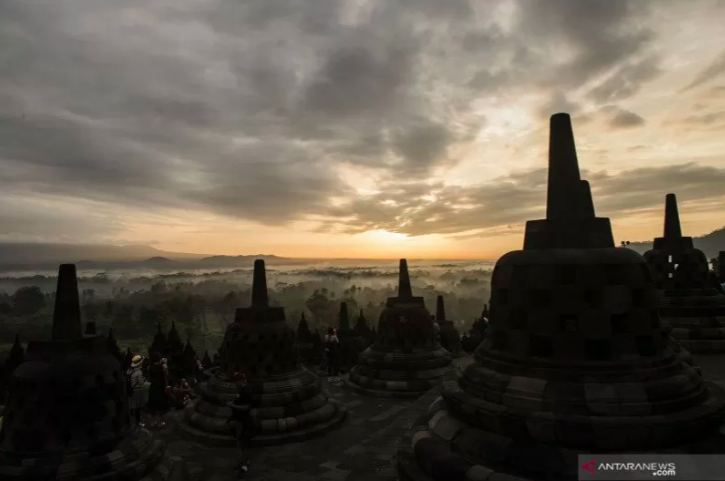 Wisatawan menikmati suasana matahari terbit di kawasan Taman Wisata Candi (TWC) Borobudur, Magelang, Jawa Tengah, Sabtu (15/12/2018). ANTARA FOTO/M Agung Rajasa/aww.
jpnn.com, JAKARTA – Pariwisata menjadi salah satu sektor yang berpotensi untuk dikembangkan dalam hubungan bilateral Indonesia-Korea.
Profesor Ilmu Politik dan Hubungan Internasional di Universitas Korea Shin Jae Hyeok mengatakan promosi pariwisata memang menjadi salah satu potensi kerja sama yang mesti dikembangkan kedua negara.
Hal ini diungkapkannya dalam workshop pertama Indonesia Next Generation Journalist Network on Korea Batch 3 dengan tema "Building Bridges: Assesing the Past and Shaping the Future of Indonesia Korea Relations", yang merupakan program kerja sama FPCI dan Korean Foundation.
Menurut dia, selama ini hanya Bali yang menjadi lokasi wisata populer bagi wisatawan Korea. Padahal, ada 2 hal terkait pariwisata Indonesia yang sangat berpotensi untuk mendatangkan turis Korea.
"Ada 2 hal lain yang sangat menarik, pertama batik sehingga makin banyak korea mengunjungi indonesia, lalu kalian harus lebih mempromosikan Yogyakarta terutama Borobudur," ucap Jae Hyeok, Selasa (2/8) lalu.
Jae Hyeok bilang bahwa Yogyakarta memiliki banyak pantai bagus yang bakal menjadi favorit wisatawan Korea. "Kerja sama di sektor ini sangat berpotensi untuk kedua negara. Kita harus sama sama mengembangkan sektor pariwisata," kata dia.
Berdasarkan data dari Badan Pusat Statistik (BPS), pada 2022 sebanyak 122.221 wisatawan Korea berkunjung ke Indonesia. (mcr4/jpnn)
Sumber : https://www.jpnn.com/news/tak-hanya-bali-2-hal-ini-bikin-turis-korea-pengin-ke-indonesia